Traditions
School Countdown Begins
On August 2, 2014 by Lori
$1 Midweek Movie Mornings
I overhead my 9 year old daughter share with her younger siblings that the first day of school is less then 18 days away…there was complete silence.
August has arrived and this summer has flown by, so over the next few weeks I will post some last minute summer fun you can enjoy with your lils.
We will kick off our countdown with the Regal Summer Movie Express series which features family movies (rated G or PG) for only $1 admission per person with a portion of the proceeds going to the Will Rogers Institute. 10am showings. Regal supports this program for many years now. This years program runs until mid-August with select titles playing on Tuesdays and Wednesdays. Click here for a list of movies.
For OC locals, if you attend the 10am Regal show at Kaleidoscope Mall in Mission Viejo, you can then enjoy Kaleidoscopes Free Summertime Fun post showtime with an hour-long free event for kids such as a Dance Party, Drawing Program and Magic Show. The series concludes on August 26 from 11:30 am to 2:30 pm with a Mini Carnival benefiting Make-A-Wish of Orange County and the Inland Empire. Inquire more here.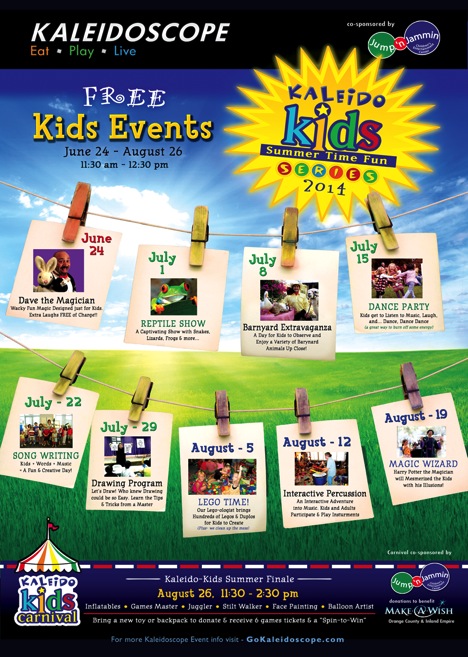 Let the countdown begin…
Calendar
August 2014
S
M
T
W
T
F
S
1
2
3
4
5
6
7
8
9
10
11
12
13
14
15
16
17
18
19
20
21
22
23
24
25
26
27
28
29
30
31